Dirty house drains are unsightly and can also be a breeding ground for bacteria and other nasty things. Like most people, you probably don't want to deal with the hassle (and mess) of drain cleaning. However, there are some safe and easy ways to clean your drains that won't cause any problems. This blog post will discuss five of the best ways to clean your drains safely and effectively!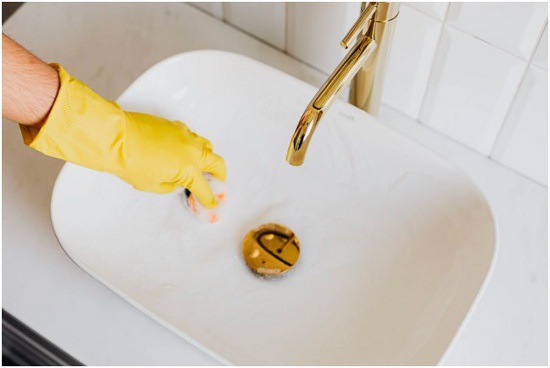 Use a plunger
This is probably the most common way to clean a drain, and for a good reason. It's simple, effective, and doesn't require any special equipment. Just make sure you use a plunger designed for drain cleaning (plungers with a flanged edge work best).
Pour boiling water down the drain
Boiling water is a great way to break up any grease or grime clogging your drain. Just be careful not to pour too much at once, as this can damage your pipes. Pour the boiling water slowly and give it time to work before adding more.
Use vinegar and baking soda
Vinegar and baking soda are two of the most versatile cleaning agents around. When used together, they can break up just about anything! To use this method, mix equal parts vinegar and baking soda together and pour it down your drain. Let it sit for a few minutes before flushing with hot water.
Use a drain snake
A drain snake is a long, flexible tool that can be used to remove any debris that may be clogging your drain. If you're unsure how to use a drain snake, there are plenty of instructional videos online. Just be careful not to damage your pipes while using this tool.
Hire a professional
If all else fails, you can always hire a professional to clean your drains. This is probably the most expensive option but also the most effective. Professional drain cleaners have the tools and experience to clean your drains in no time.
How to prevent clogged drains
One way to prevent your drains from getting clogged is to be careful about what you put them down. For example, avoid putting grease, oil, or fat down the drain. These substances can solidify in your pipes and cause a clog. You should also avoid putting coffee grounds, eggshells, or other hard objects down the drain. These items can scratch and damage your pipes. If you have a garbage disposal, be sure to use it sparingly and run plenty of water while you're using it. Over time, these devices can wear out and cause problems with your plumbing. Finally, be sure to have regular maintenance done on your drains. This will help to catch any potential problems before they become serious issues.
Are you having problems with your drains at home? If yes, let a licensed and skilled plumber look into your plumbing system and perform the necessary repairs. DIY drain cleaning can be risky, especially if you do not have the proper skills and tools for the job. On the other hand, hiring a professional can guarantee quality results in no time. So, make the right decision and partner with your local plumbing company!